What's all the hype about Algenist?? Well, after doing some research on this new and upcoming product….I'm sold!!! Algenist is jampacked with nourishing ingredients that our skin is just craving the benefits of! A huge 91% saw immediate results! And increasing results within just 10 days!
Check this out…..it contains Shea Butter, Vitamin C & Biotin which gives skin radiance and luminosity…but the star of the show is Alguronic Acid. Now this is big…big…big!! This one is the breakthrough ingredient most of us are searching for so listen up, or should i say READ UP!! This is some pretty scientific language but I'll break it down and simplify it so we can all understand it easily without having to rack our brains too much!!!! I'm all for that!!
Alguronic Acid demonstrated significant inhibition of melanin production and protection from UV cell damage…The photochemical properties in melanin make it an excellent protectant against malignant melanoma and other skin cancers. This really peaked my attention because I was recently diagnosed with a small skin cancer myself seeing how I've been vacationing every month in Florida….basking in the beautiful tropical environment! Now, I don't know about you, but when I see something that'll not only help me look younger but will protect me against skin cancers, well………..let's just say ALGENIST…..YOU'VE GOT MY ATTENTION!!!!!
Here's how it works…Alguronic Acid helps with skin cell regeneration (thats HUGE!), it slows and repairs signs of aging by eliminating the old damaged cells and generating new ones!! That's the key to anti-aging right there, in a nut shell.
To sum it up….ALGENIST corrects….enhances….protects!! Bring it on!!!!
It's got my approval!
Algenist Results
Scientific Photography Instrumentation

Using scientific testing techniques, third-party clinical studies examined the ability of Algenist skincare products to improve skin qualities.  Corneometers, skin replicas and unretouched, matched scientific photography instrumentation were used to scientifically measure improvements in skin moisturization, skin smoothness and the size and number of fine lines and deep wrinkles.

Third Party Clinical Results

For example, a third-party clinical study of The Concentrated Reconstructing Serum consisting of 30 women resulted in significant measured skin improvements.

Third Party Consumer Results

Each Algenist product has undergone third-party consumer use testing to evaluate and report real results seen by 100 women.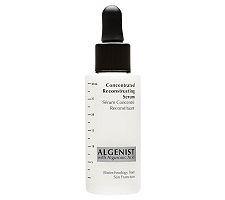 Buy Algenist Concentrated Serum 1fl. oz. QVC.com
If you have any questions or comments please comment on this post.
We also love your "Likes"! Like us please  (: